Putting together a safety file can be very overwhelming, especially if you do not have sufficient time! However, it is pretty straight forward IF you have the correct documents in place. The below image illustrates a sample contents page of the main headings required in a safety file. It is important to remember that each safety file developed is unique to the work activities at hand.

Each main heading of the contents page has a set of document requirements. These document templates required can be found in the tab 'build your file' if you do not have the required documents in place. Under the tab 'build your file' you will notice that the main heading in the safety file contents page are available. You will then click on the required tab headings and download the free templates or purchase the documents required in order to build your own safety file. We do have a quick response rate over email.

Remember: We are available to assist and complete the documents for you if you are not sure how to complete the documents on your own! (Extra charge).
However, certain documents we do not provide as it is your companys responsibility to ensure these documents are in place and up to date, they include:

•Letter of Good standing
•BBBEE certificate/affidavit
•Liability insurance
•Tax clearance certificates
•Company Profile
•Legal agreements with clients and principle contractors
•Medical certificates
•Training

We may not be able to issue you these documents but if you are not sure on how to obtain such documentation we can guide you and give you the contacts of companies that can assist you.

Please don't hesitate to contact us if you require documents that are not listed on this website.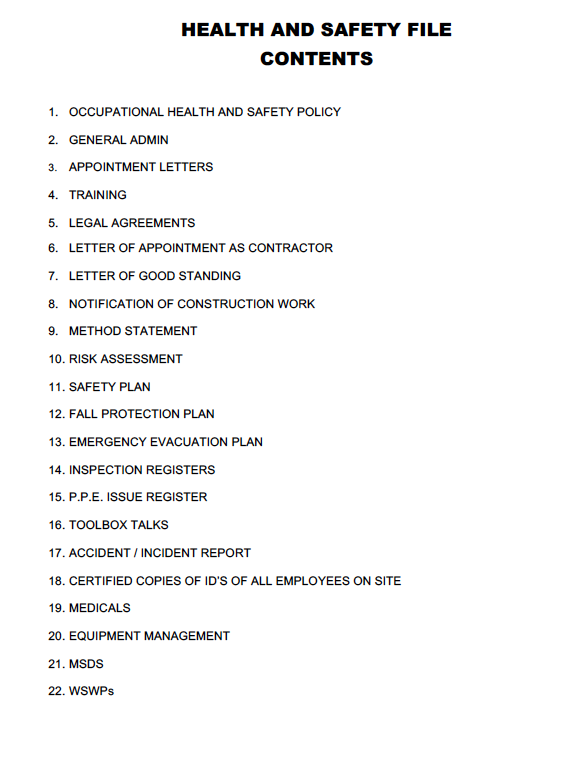 Safety file contents page V2.doc